LINE-X Cornwall is now located in Redruth, Cornwall.
Lasermaster, specialists in Fibre Optic Cutting, have added a LINE-X coatings division to their unit in Redruth. Lasermaster, who also own hydramaster, a supplier and fitment centre for truck-mounted carpet cleaning machines, have been using LINE-X coatings for lining customer vans for around six years via LINE-X's UK Dealer network.
John Gotts, owner of the three businesses, has seen the benefit of the LINE-X van lining solutions for his Hydramaster customers. John has witnessed the incredible durability and watertight seal that LINE-X offers and has been happy referring his customers to LINE-X application centres, however, as both Hydramaster and Lasermaster continue to grow, John knew it was the right time to bring a LINE-X application centre in house, not only to service his existing Hydramaster customers, but also to offer LINE-X protective coatings services to all the commercial vehicle owners of Cornwall.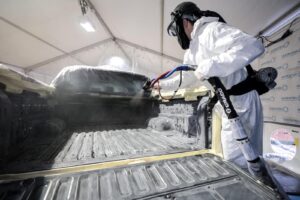 LINE-X Coatings By LINE-X Cornwall
LINE-X Cornwall has already completed a large number of LINE-X applications across a variety of vehicles and metal parts since their new ownership just before Christmas 2020. One application even included lining the top of a lifesize army tank;
The majority of applications by LINE-X Cornwall currently include commercial vehicles such as van interiors, truck beds and Land Rovers. Later in the year [2021], LINE-X Cornwall will be operating a mobile spray-rig for larger applications, such as tank lining, concrete protection and much more.
LINE-X Van Lining: Cornwall (Video)
To keep up-to-date with LINE-X Cornwall, and to a request pricing information, please visit the LINE-X Cornwall Facebook page: https://www.facebook.com/linexcornwall
To see a full list of our UK Dealerships, please visit: https://line-x.co.uk/locate-a-dealership-uk/