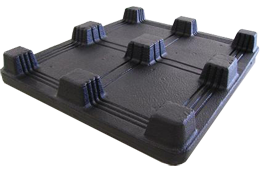 One of the UK leading suppliers of lightweight aircraft pallets uses LINE-X in house to strengthen their range of pallets. By coating the polystyrene pallets with LINE-X, it offers amazing strength combined with light weight, making the LINE-X coated pallets more cost effective to air freight than standard wood pallets.
The combination of polystyrene and LINE-X means that the finished pallet can be as much as 50% lighter compared to a standard wood pallet.
LINE-X can also be applied to metal crates and stillages to prevent the rust and corrosion that becomes commonplace with metal items that are moved with a forklift truck.
LINE-X can also provide chemical resistant coatings for pallets and cages that come into regular contact with chemicals and corrosive materials. LINE-X is an ideal coating for use on IBC's
For more information or to arrange a demonstration on how LINE-X can be incorporated into your manufacturing process, please contact us on 08000 198676 or use our Contact Form.