Metal Fabricators are turning to LINE-X as an alternative to Galvanising. By applying LINE-X to the fabricated steel you are able to offer prevention against rust and corrosion along with cosmetically pleasing looks. LINE-X is available in virtually any colour so fabricated items can be customised to meet individual requirements.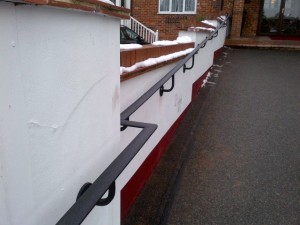 Seaside towns are starting to look at LINE-X as a solution for coating lamp post and railings that run alongside the sea front. By putting a textured LINE-X finish onto the fabricated items also help to prevent fly posters being attached.
Easy access lightweight steel manhole covers can be easily coated with LINE-X offering the usual protection against rust and corrosion as well as a slip-resistant finish whilst keeping the weight down to a manageable level
LINE-X offers a great alternative to paints, powder coat and galvanising. The fact that LINE-X is touch dry in 3 to 5 seconds and can be handled almost immediately makes it an obvious choice for manufactures where the turn around time for projects is paramount.