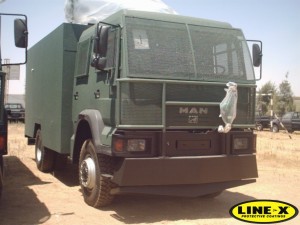 LINE-X is often used to coat the underside of vehicles that operate in harsh environments like snow ploughs and gritters. By coating the chassis, air tanks etc. LINE-X can prevent the stone chips that damage the paint and allow the salt and water to reach the metal and thus virtually eliminate the rust and corrosion.
LINE-X can also be used to line the inside and outside of the hoppers that carry the salt offering an easily cleanable smart looking finish that helps to eliminate the need to repaint on a regular basis.
LINE-X also offers excellent protection for road sweepers offering protection against the stones and debris that becomes airborne when collected by the brushes. By lining the insides of the water tanks, LINE-X can offer an extended life expectancy.
LINE-X offers excellent protection when used to line the insides of wheel arches on heavy vehicles such as cranes, JCB's and Volvo dump trucks.