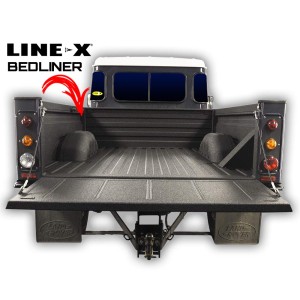 LINE-X Spray-on Liners provide long lasting durable protection to the load space of your Land Rover.
Our LINE-X Liner is sprayed straight on the substrate of the load space, making a perfect final fit for any make or model.
The key to the LINE-X spray-on liner is the airtight and watertight seal, which means no more rub spots, rust or corrosion to the load area of your Land Rover. Whatever you are transporting in your Land Rover, make sure you protect the load space with LINE-X.
LINE-X spray-on Liners are maintenance free, offered in a variety of colours.
The use of the LINE-X material is not just limited to lining your vehicle's load space, the LINE-X spray applied polyurea coating can provide protection on trailers, foot-wells, panels and roll bars.
LINE-X spray applied Land Rover Liners offer a range of advantages, which include:
Hard tops and Canopies can still be fitted
No loss of load space
Watertight and airtight seal, preventing rust and corrosion
Scratch and Slip resistant
Tough
Optional Antimicrobial protection available
Types of Application