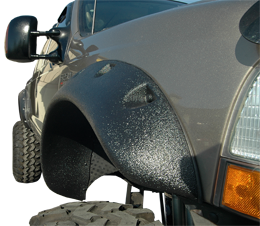 LINE-X Spray applied Coatings provide long lasting durable protection not only to truck beds, but to other areas of your vehicle such us wheel arches, wing mirrors and bumpers.
Our LINE-X polyurea coating is sprayed straight on the substrate , making a perfect final fit for any shape or sized accessory.
The key to the LINE-X spray-on liner is the airtight and watertight seal, which means no more rub spots, rust or corrosion to any part of your vehicle exposed to harsh conditions.
LINE-X spray-on Coatings are maintenance free, offered in a variety of colours and can even be colour matched.
The use of the LINE-X material is not just limited to lining your vehicle accessories, the LINE-X spray applied polyurea coating can provide protection on trailers, footwells, panels and roll bars
LINE-X spray applied polyurea coatings offer a range of advantages, which include
Available in a range of colours
Sprayed to desired thickness
Watertight and air tight seal, preventing rust and corrosion
Scratch and Slip resistant
Tough
Chemical resistance