LINE-X Spray-on Coatings provide long-lasting durable protection preventing abrasion and corrosion.
The LINE-X Liner is sprayed straight on the substrate, making a universal final fit for any make or model of 4x4.
For Work, For Play, For Every Day - LINE-X keeps your 4x4 looking like new for longer.
The use of the LINE-X material is not just limited to lining the load area, the LINE-X spray applied coating can provide protection on kick plates, foot-wells, panels and roll-bars.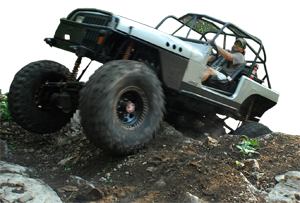 Why should I use LINE-X?
Jet Washable
LINE-X coatings are jet washable and easily maintained. LINE-X will not corrode or develop mould after coming into contact with water.
Does not crack, split or warp
4x4's are prone to knocks and bangs, LINE-X will not crack, split or warp, maintaining a sealed substrate thus preventing rust and corrosion.
Resists most common chemicals
LINE-X has been tested and proven to resist most common chemicals such as Diesel and Petrol.
To find out more Locate your closest LINE-X applicator and give them a call.
---